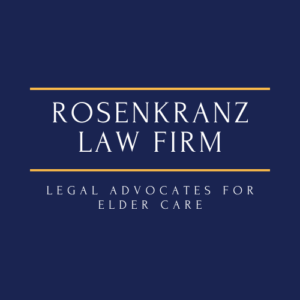 The Firm's Elder Care Law practice is notable in that it focuses on a particular group of people rather than a narrow field of law. The Rosenkranz Law Firm addresses a variety of areas of law that most impact the elderly. These include a wide range of services from the more traditional, such as estate planning, to newly emerging practice areas, such as Health Care Advocacy.
Legal problems for the elderly are often directly related to physical or mental problems, general decline in functioning, social isolation, and family issues. The Firm employs a holistic approach to assure that the client's needs are addressed in a caring and prudent manner.
The Firm advises seniors and their families when planning for the possibility of long-term illness and guides them through the tricky process of determining eligibility for government programs. The Rosenkranz Law Firm is adept at maximizing benefits from government programs at the local, state, and federal levels, and serves as a strong advocate for the senior seeking these benefits.